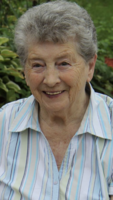 Dorothy Theresa Eileen "Dollie" Lowe
Lowe-Dorothy Theresa Eileen, - 87, Sheet Harbour, Halifax Co.
On Thursday, October 10, 2019 Dollie was reunited with the love of her life, Cyril Lowe, who predeceased her in 1996. The family of"Dollie" are heartbroken to announce the passing of their mother, sister, aunt, grandmother, great grandmother and friend, who through her strong will and determination lived a wonderful 87 years. Born December 4th, 1931 in Sheet Harbour, Dollie was the daughter of the late John Corneilious and Viola Mae (Cruickshank) Currie. Dollie leaves behind a lifetime of happy memories, she spent most of her days sitting in her rocking chair making NFLD mittens, watching old game shows and reading romance novels before bed. She loved her family unconditionally, and was always there for a listening ear or to give advice. Her homemade macaroni was a staple food and when you walked in the door and smelled it cooking you knew you were home. A wonderful and involved grandmother, she was known to dance around the room, wearing buckets for hats and sing songs to the beat of her own drum. Always thinking of her family, she fought to stay with them until the very end. She was the most determined, courageous, and strong woman you would ever have the pleasure of knowing. Her memory will last a lifetime, as will the incredible moments and conversations she's shared with those who loved her so much. She is survived by her daughters Shirley (Carl Duggan) and Victoria (Robert Josey) as well as her beloved grandchildren, Jamie (Paula), Michael (Katie), Alayna (Roland), Kayla (Shawn), and Derrick (Kayla). Great Grandchildren Ryan, Brandon, Brooklynn, Loghan, Dexter, Aria and Austin and Great-great Grandchild, Hayden.; siblings, Thelma (late Guy Levy), Betty (late Ervin Fraser), Linda (Carl Doucette), Fraser Currie (Nora), Rodrick Currie (Sandra); many nieces and nephews. She was predeceased by brothers, Allan Currie (Elsie), Edward Currie (Evelyn), Jackie Currie (Ola), Gervaise Currie (Deanna), and Baby Cyril. Cremation has taken place and a grave side committal service will take place Friday October 18th, 2019 at 1pm at the Saint Andrews Anglican Church Cemetery, Rev. Gary Barr officiating. The family would like to give thanks to the incredible nursing staff at Eastern Shore Memorial hospital, and special thanks to Doctors Don MacDonald and Gordan Simms who were such a tremendous support through this difficult time.
In lieu of flowers donations to the Saint Andrews Church or Charity of one's choice in Dollies name is preferred. On line condolences may be sent to: www.crowellsfuneralhome.ca
"Her memory will last a lifetime, as will the incredible moments and conversations she's shared with those who loved her so much." "We love you to the moon and back down again"